Saskatchewan Art Events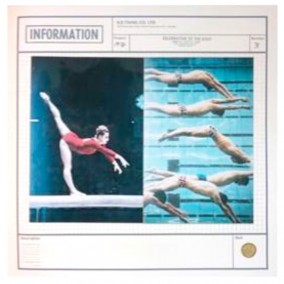 | | |
| --- | --- |
| Date: | Friday January 26, 2018 |
| | |
| --- | --- |
| Address: | 3475 Albert Street Map It |
| | |
| --- | --- |
| Location: | Mackenzie Art Gallery |
Opening reception for the exhibition Re: Considering the Body at the MacKenzie Art Gallery, in Regina.
Reception - Friday, January 26, 7:00 pm (Member Preview 6:00 pm)
This multidisciplinary project revisits the ground-breaking N.E. Thing Co. Ltd. exhibition Celebration of the Body (1976), featuring contributions by NETCO co-presidents Iain Baxter& and Ingrid Baxter, as well as an international contingent of invited artists. A reactivation rather than a historical reconstruction, the project probes the current relevance of NETCO's deconstruction of cultural stereotypes of the body with a special focus on questions of ability and the development of a "soma-esthetic."
The exhibition is the most recent in a series of projects initiated by French curator Fabien Pinaroli that channel the original spirit and energy of the 1976 exhibition. In 2012, he produced exhibitions with Iain Baxter& at the Musée des Moulages in Lyon and CAP Saint-Fons (France) as well as conference-performances at University College London and Raven Row (UK). Like these previous iterations, Re: Celebrating the Body will include a diverse program of visual art, performance, video, dance, athletics, yoga, somatics and other body-based practices. Joining the curatorial team are Timothy Long, Head Curator at the MacKenzie Art Gallery, and Robin Poitras, Artistic Director of Regina's acclaimed contemporary dance company New Dance Horizons, whose program will be based at the gallery as part of the residency series MAGDANCE: art + dance.

Artists include:
Kader Attia, Ingrid Baxter, Iain Baxter&, Olivier Bosson, Bill Coleman, Compagnie Marie Chouinard, Hannah Dubois, Frédérick Gravel, KVM—Ju Hyun Lee & Ludovic Burel, Camille Llobet, Astrid Lloyd, Jeannie Mah, NDH/Rouge-gorge, Émilie Parendeau, Prairie Dance Circuit, Robin Poitras, Edward Poitras, Rober Racine, jes sachse, Stream of Dance Festival, James Viveiros, Erwin Wurm, and special guests from the Museum of Antiquities, University of Saskatchewan
Learn more at the MacKenzie Art Gallery website.