Edward Weston
$7.95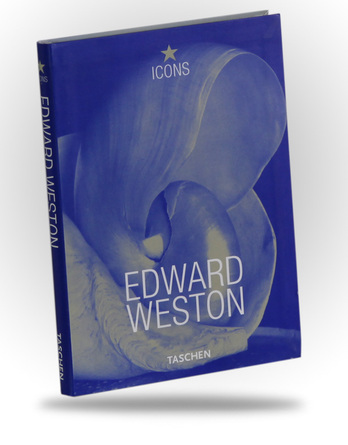 TASCHEN Icons Series
Used - Soft Cover - 192 pages - 2001
Excellent condition. Like New.
7.9 x 5.7 x 0.6 inches
This is an elegant book, with an essay by Terence Pitts, of the Center for Creative Photography in Tucson, Arizona. It presents 180 of Weston's finest images, including many -- such as the pines of Point Lobos, the sand dunes of Oceano, and his stark, unadorned nudes -- that have become icons. Whereas the photographs of Man Ray and Moholy-Nagy were, to Weston's eyes, hopelessly mannered, his images are elemental, organic, and in harmony with nature's rhythms. Weston spent most of his working life in Mexico and California, and much of his work, replete with shadows, is illuminated with the harsh light of those places. In 1932, he and Ansel Adams founded the influential photographic collective Group f/64, named after the lens-aperture size that exposed an image at its most detailed and clear. This was Weston's aesthetic: to show the real world in its unrelieved integrity rather than create an imaginary construct. He was concerned with visual truth, not with character or storytelling. Weston was a true pioneer whose rigorous vision permanently changed the ways we see the world around us. --John Stevenson
---
Images of used items in the NACstore are always photographs of the actual item being offered.
NAC Item Number: US0219
Related Products
Magnum Cinema
photographs from 50 years of movie-making
$29.95