Color Drawing
$27.95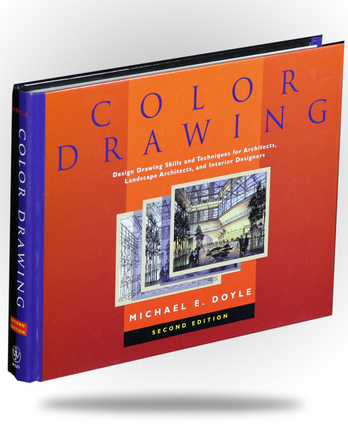 Design Drawing Skills and Techniques for Architects, Landscape Architects, and Interior Designers - 2nd Edition
Hard Cover - 352 pages - 1999 - 11" x 8.5" x 1"
List price is $67.99 CAD
Stunningly updated, totally redesigned, practical, and ready to use this new edition of Michael Doyle's classic Color Drawing is the ultimate up-to-date resource for professionals and students who need to develop and communicate design ideas with clear, attractive, impressive color drawings. In an easy to use, step-by-step approach, this comprehensive guide presents a total system of color design drawing that encompasses approaches to sketch communication as well as more finished presentation drawing. Totally redesigned to provide quick, easy access to key information, this Second Edition covers the basics of color phenomena, media, techniques, and approaches to illustrating materials necessary to communicate design ideas. With nearly 400 new color illustrations, it contains a new section on color and design principles for creating more sophisticated presentation drawings and offers innovative ideas for the reproduction and distribution of finished drawings. Color Drawing features:
* A complete body of illustrated instruction that demonstrates the development of design ideas from initial concept through presentation drawing
* Finely honed explanations of each technique and process
* Faster and easier ways to create design drawings
* Methods for combining hand-drawn and computer-generated drawing techniques
This remarkably versatile volume is both an illuminating textbook and a completely reliable self-teaching tool, as well as a handy quick reference. It is an excellent guide for students at any level and an unparalleled resource for design professionals.
Related Products
Fabrics
Creative decorating and painting
$7.95