Artist of the Month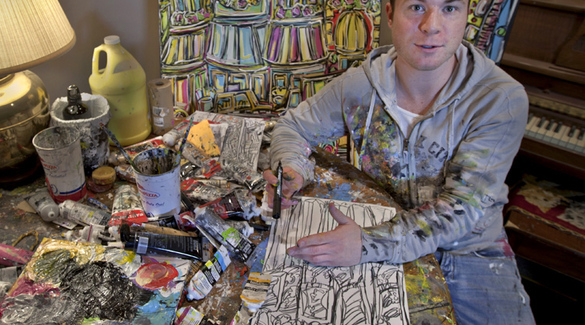 Jason Robins in his Regina studio
Jason Robins
For our July 2012 Featured Artist, Saskatchewan NAC is happy to feature Regina painter and fashion designer Jason Robins.
Jason Robins was interested in art from a young age, in Regina, and eventually formal art studies took Robins to Vancouver in 2000, where he attended the Emily Carr Institute of Art and Design and the Blanche MacDonald Centre for Applied Design. He received both a Fashion Design Diploma and a Fashion Merchandising Diploma from the latter institution.

Robins works in a variety of mediums, including acrylics, textiles, painting on furniture, clothing, shoes, and other objects, ceramics, and murals. Bold lines and colours characterize his work, much of which is commissioned and is part of private collections in Canada, the United States, South Africa, Hungary, China, and Hong Kong. Robins has exhibited at the joe moran gallery (2000, Regina), Agora Gallery (2002, New York), the Conexus Centre of the Arts (2002, 2003, Regina), and Cumberland Gallery (2007, 2011, Regina). Robins has also painted numerous public murals in Regina, particularly in the downtown area, and accepts commission projects for both paintings and murals.
NACmarket: Jason Robins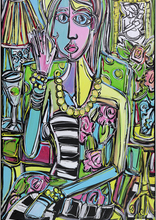 Lady in a Polka Dot Chair
original acrylic painting by Jason Robins
$425.00
Interview
How did you come to be an artist?
I did a painting in grade five that was chosen to be in the school board art show, and after that I kept drawing and painting through high school and doing commissioned projects for teachers and clients. In grade 12 I participated in an art program where I created a portfolio to apply for university. I sent it in to Emily Carr University of Art and Design, in Vancouver, and was accepted.
While in Vancouver I also attended Blanche MacDonald Centre for Applied Design, and did shows in the summer in Regina, some shows in Vancouver, both fashion and art, as well as a show in New York. After this time I realized that I could do this for a career full time.
How would you describe your work?
My work is supposed to be fun and bright and be a conversation piece.
I have grown as an artist in doing faces and bodies, and a lot of my commissioned work is of people, families, and pets. I still work in my same type of imagery but feel that it has progressed to a new level with more layers and colouring.
I started doing my paintings on canvas and progressed from that time so that now I work on canvas, fabric and murals.
How has living in Regina (and spending time away from Regina) shaped you as a artist?
Having lived away from Regina you realize what a great city we have — it has a very strong arts community and people are very supportive of the local artists, which is really great. It is great to go away and try something new but Regina has been very good to me. I have had people ask me when I am out doing my art where I am from, and am very proud to tell them that I'm from Regina.
What artists and others have influenced you?
An artist that has influenced my work has been Picasso, in the bold lines and colouring as well as some similar imagery. The biggest influence has been the people who support my art and work.
How did you start working in murals? And how do you approach creating a mural?
I was asked by Bick at VIP Menswear in downtown Regina to create a mural, and that was one of the first to go up in the downtown. I really start just like a painting only on a larger scale. I'll have a small sketch, and then I usually start at the left side of the wall space and work my way across, building up the different colours, and then go back over it to make sure that everything is working.
What have you found to be the best and the worst parts of being an artist?
The best part of being an artist is getting to do what I love, as well as getting to meet a lot of amazing people that have been extremely supportive of my work, it is always great to be surrounded by people that are wanting to help and use my art for different projects, as well as for themselves. The worst part of being an artist is not knowing sometimes what is going to be next, it's not a normal job with a consistent salary, but I have been quite lucky and having steady work, which has kept me doing it.
What are your own expectations for your work and your career: your goals and your ideas of what lies ahead?
I would love to keep getting my art out in the public, and doing shows. I have lots of ideas and would love to get some of my clothing and purses manufactured, people tell me that I should get in to using my prints for fabrics and house wares. I have lots of ideas just finding the right people and places to start these new ventures. Most of all the painting is what I love and hope that I will be able to keep doing what I have been doing for the rest of my life, creating beautiful and interesting pieces of art for people to enjoy.
Jason Robins
Born:

1982. Regina, SK

Resides:

Regina, SK

Genre:

Cityscape, Humour, Public Art

Mediums:

Acrylic, Murals
Past Artists of the Month
Connect With Us